10/100/Gigabit Ethernet Testing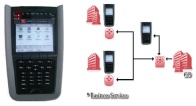 ParaScope GigE is the ideal tool for field engineers and technicians installing, maintaining, and troubleshooting Metro Carrier and Campus Ethernet networks. Main features:
Rugged handheld test set with powerful features and smart navigation.
Single and dual port testing.
10/100/1000 Megabit electrical and 100/1000 Megabit port for single and multimode fiber.
High resolution TFT color screen viewable in any lighting condition.
User defined test profiles and thresholds enable fast turn up of service.
Advanced Ethernet diagnostics tools; Ping, TraceRoute, Blinking Port locator, Cable Length, Optical Power Meter and Wire Map test.
Ethernet BER testing at layer 1/2/3, with error insertion.
RFC 2544 benchmark testing including; Throughput, Latency, Frame Loss and Back-to-Back Buffer Capacity Frames tests with upstream and downstream modes.
Comprehensive layer 2/3 statistics and filtering.
Multiple stream traffic generation and analysis for QoS verification of services such as triple play. Generate configurable constant, bursty or ramped traffic layer 2/3 traffic for up to 500 stations.
Comprehensive network monitor functions; HUB monitor mode, LASER watch, Pass-Through, Dual port pass modes etc.
Loop-back time-delay and service disruption test.
Multi-protocol support including DIX/802.3 SNAP.
Configurable VLAN and QoS settings
Extended field testing with field replaceable, rechargeable Lithium Ion battery module.
Export results via USB.